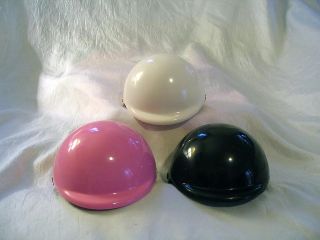 I have officially seen everything.
I was checking some e-mail tonight and I saw a little Google ad right above my mailbox. It said:
Dog Helmet for biking - Dog Helmet has adjustable strap, 4 sizes and foam lining.
Serendipity. I was horrified to know my champion Weimeraner would have to ride Porcupine Rim totally unprotected... Until now.
I had to go to the site and check this thing out. Here's the product description:
Designed with safety and comfort in mind, "The Helmet" can protect a pet's head from wind, windblown objects and other irritants when riding on a motorcycle, in a car, truck, or boat.
Excellent for blind dogs or any pet that requires protection from minor head trauma when bumping into things. Does your dog have stand-up ears? Not to worry....."The Helmet" was designed so that it does not rest flat on the head. The customizable foam pads that are included fit between the ears, not over them. This prevents "The Helmet" from pushing the ears flat to the head. The dual-adjustable chin strap lets you custom fit "The Helmet" for almost any pet dog or cat.
Available in: "Bone" White, "Wet Nose" Black, and "Panting" Pink.
To insure a proper fit, measure your pet's head-across the forehead, around to the back of the head. If your pet has floppy ears, make sure to include them when measuring. Select a size from the chart below that most closely matches this measurement .
This poses another question. When did dogs start receiving better healthcare than most humans? I personally know two dog owners with cancer-survivor dogs. This would not be the case in my house. If one of my dogs became terminally ill when I was a kid, I know what my dad would say.


"You can get a puppy after this one dies. Cats are still better than dogs though."

And I most certainly know what my grandpa would say.
"You know what would cure that
dog cancer
? A lead aspirin would do."
I guess the Dog Helmet was not intended for heartless bastards like me.